Countless disruptions of recent years have organizations re-evaluating their value chains for near-term opportunities and longer-term risks. To date, digitization has been a primary lens for such innovation, yet digital innovation of parts fails to address systemic challenges facing every business. With supply chain disruptions, environmental pressures, shifting competitive landscapes, and evolving customer, talent and investor expectations, many companies are now developing strategies to "go circular" – an opportunity estimated to generate $4.5 trillion of additional economic output by 2030.
Going Circular In the Digital Age
The circular economy is a model of production, consumption, and repurposing in which materials, products, business models, and systems are designed to recapture "waste" as a resource to re-circulate (use and manufacture anew). In contrast to current linear supply chains, in which we take (extract) new materials for development, process them into products designed for single or limited-use to sell as much as possible, and then throw away those products and materials (with devastating ecological and social impacts), circular models aim to maintain and recirculate the value of resources and processes for as long as possible, thereby reducing waste, strengthening supply chains, and regenerating nature.
Although circularity is how human and natural systems have evolved throughout history, its intersection with modern business is catalyzed through digitization. In fact, our research finds that digital transformation itself is a critical enabler for accelerating business value of circularity in terms of scale, network effects, localization, liquidity, speed to innovation, transparency, accountability, and integration with existing business assets.
"Ten years from now there will be no tolerance for waste in the value chain." – SAP Innovation
We have been is tracking dozens of applications, technologies, and digital business model examples across all phases of the value chain. This post analyzes three of those phases, surfacing several examples across technologies and sectors.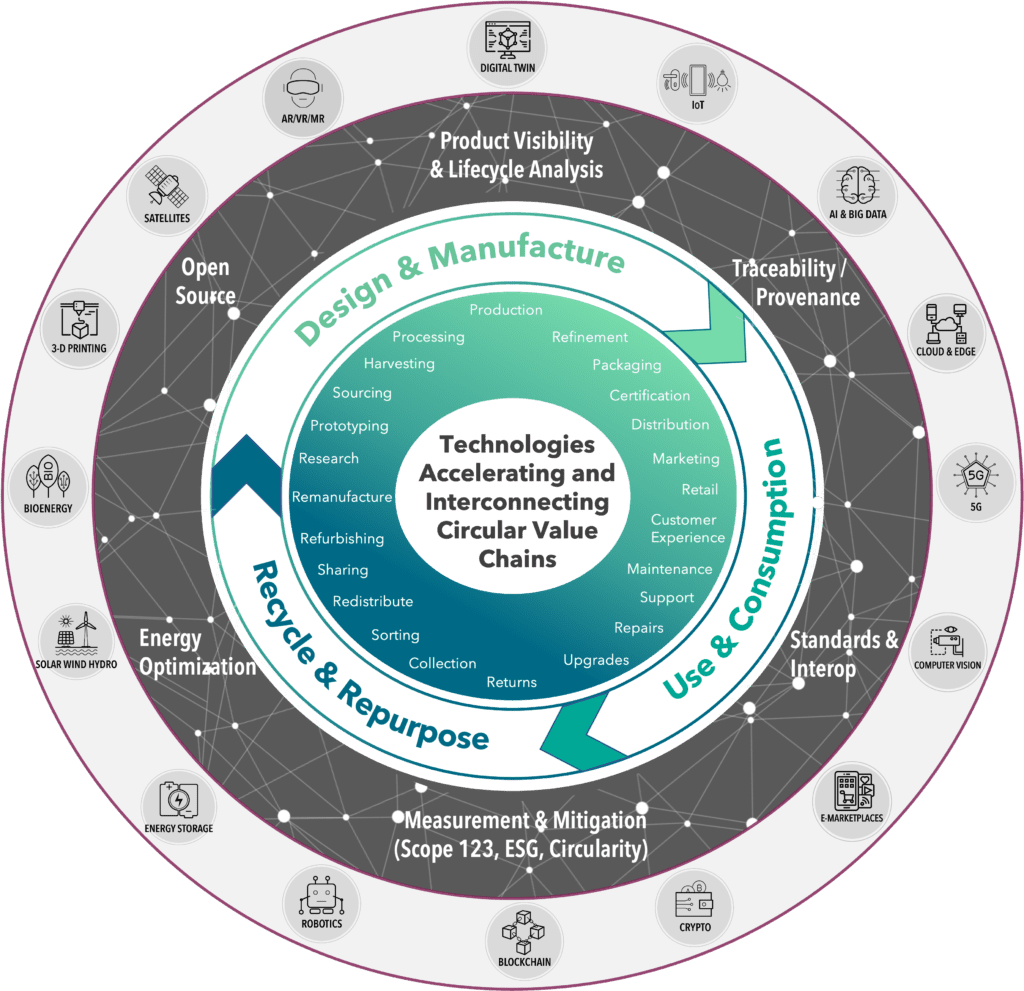 1. Design & Manufacturing:
Organizations are incorporating digital capabilities into the designs of their products and services to optimize for circularity. Some applications are focused on the conceptualization of products, such as using AI-powered generative design to suggest superior constructions based on parameters that optimize performance and bio-based materials, reduced emissions, packaging, or modularity. Some focus higher upstream in the process, using big data and AI-powered software and robotics to analyze massive datasets of biomolecular properties and material processes to re-engineer alternative "recipes" towards formulae that do not rely on extracting fossil fuels, and are abundant in nature.
Zymergen is a biotech company that combines molecular biology, data science, automation, and genomics to develop molecules, microbes, formulae, and materials inspired and sourced across nature. Instead of petrochemical-based adhesive, for example, they worked to develop adhesive material inspired by mollusks clinging to rocks in the crashing ocean.
Materiom is both an open data commons and a suite of software tools to analyze, optimize, and commercialize biomass-sourced materials. The software's AI is tuned to analyze materials to help designers meet specific product and performance niches, while avoiding over extraction of ecosystems. The open data commons lower barriers to entry for researchers, and accelerates experimentation and learning of common recipes across biopolymers and regions.
2. Use & Consumption:
The experience and use of a product is even more important in the circular economy, because extending its lifetime extends its value and customer relationships. For the last decade, a proliferation of sensors, devices, computer vision-enabled cameras, IoT, cloud, and advanced analytics have been powering use cases such as remote monitoring, predictive maintenance, efficiency optimizations, downtime/risk prevention, and over-the-air updates. But a new class of digitally-enabled use cases are empowering businesses and customers towards circularity. Our research has identified five key areas of innovation, two of which we example below.
Circularity-as-a-service (rental, resale platforms)
Circular re-commerce platforms
Customer transparency & empowerment
Customer loyalty & reward
On-demand repair
Several smartphone apps, such as Scrapp and Olio are using machine learning to help people identify how to recycle products and reduce waste, and geo-location data to determine how and where to do so. (Users can also search and verify certified brands!) Rubicon offers a similar service for businesses. Interestingly brands like Nike, Patagonia, and Timberland have developed their own "in-the-loop" programs, so as to promote product repair, recycling, and maintain the customer experience. Meanwhile, brands across everything from fashion to consumer packaged goods are implanting chips into products to function as both a payment and loyalty rewards system, incentivizing reuse.
It is not difficult to further imagine connectivity with cryptocurrencies once circular market infrastructure gains scale, particularly with the current rise of crypto-regenerative finance focused on tokenizing carbon markets. Already a start-up called Lablaco helps brands activate circular business models by tokenizing products' origins, environmental impacts, and traceability data on blockchain, and enabling branded "rent and swap" collections where consumers can try out a wardrobe and then return it back into circulation. Individuals can likewise tokenize their own pre-owned items with traceable digital ownership to swap, share, borrow, and trade back with their favorite brands. Lablaco is also incorporating non-fungible token (NFTs) into its circular retail platform, allowing brands, customers, and garments product life cycles that extend into Web3 and metaverse environments.
Optoro offers brands an end-to-end returns-to-upsell platform. Its software manages and processes customer returns and fulfillment, then uses machine learning to compare, price, and triage excess inventory to the highest value channel, whether back to primary channel or resold via Optoro's own BULQ, a wholesaler marketplace tapping several secondary markets.
3. Recycling & Repurposing:
Perhaps the most disruptive, and certainly the most investment activities are focused on closing the loop– the plethora of techniques needed to recover, sort, reuse, recycle, and repurpose diverse biological and technical materials back into the system. Market opportunities touch every industry, from electronics, energy, plastics, and textiles, to hazardous, industrial, and municipal waste.
Marketplaces specializing in materials circularity are emerging everywhere. India's Recykal handles 10,000 daily transactions of plastics, metals, paper and e-waste between across 30+ regions. While others specialize in different materials and degrees of decomposition (Scrapo focuses on plastics; Backacia on construction materials and equipment, Metalshub on metals), all are using digital to connect, automate, track, and optimize.
In addition to the multiplicity of addressable markets, growing regulatory pressures and needs to cut costs aren't just compounding interest, but directly connecting digitization to business value arguments. For instance, networked business models, such as "products-as-a service," on-demand sharing, or repair services are all powered by advancements in cloud computing, sensors and IoT, blockchain, AI and analytics. These automations help increase access by overcoming geographic barriers and enabling dispersed companies and customers to partake in the network, in effect lowering costs by improving market liquidity and providing more supply and demand security for recyclers and their customers, which further encourages circular reuse of assets, materials, products, and services.
Several companies, such as ZenRobotics, AMP Robotics, and Recycleye, are using computer vision, robotics, and digital twin analytics to more rapidly and accurately sort would-be waste from post-consumer mixed materials like cardboard and aluminum, to electronic equipment, to the pandemic-era surge in single-use plastics and biohazardous waste. Other categories are using smart sensors and connected waste bins to weight, measure, and analyze materials for more efficient triage, inventory, and waste management prediction. Corporations and large tech companies are also moving into this market, such as Unilever's recent Alibaba partnership.
A company called Excess Materials Exchange offers a real-world illustration of the intersection of digital, circularity, and business model innovation. The start-up's digital matching platform uses barcodes, QR codes, and RFID chips to configure a digital identity of materials, software and AI to encode the composition, origin, toxicity or de-constructability of the material or product, then identifies re-use options for the materials based on their financial, social, and ecological value. Since its launch pilot, it has already generated 64 million Euros in financial value from materials exchange.
Interconnecting Stakeholders for Smarter Circularity
Across these (and other) phases of the circular value chain, we are also tracking ecosystem-level digital enablement. These "multi-phase" use cases are unlocking value across stakeholders in breakthrough ways. Digital tools are catalyzing circularity by enabling collaboration and optimization across them:
Product Visibility & Lifecycle Analysis
Traceability & Provenance
Measurement & Mitigation (Scope 123, ESG, and Circularity)
Interoperability Standards & Protocols
Energy Optimization
Open Data & Open Source Tools
Blockchain for Transparency: Automaker, Porsche, alongside blockchain platform, Circularise and several of its material suppliers, has developed such a distributed ledger by digitizing materials to ensure sustainable production and circularity of components. This digital thread effectively connects the whole supply chain, enabling material traceability, tracking the CO₂ footprint and other sustainability metrics like water savings, while encoding permissions to ensure data privacy and compliance.
Big (Standardized) Data for Lifecycle Analysis: Several businesses from the fashion industry, including H&M, Target and I:CO, have agreed to use a common protocol, called Circularity ID to share data and information on garment lifecycles, and around which they are partnering on new business models, technology companies, and customer services.
Tech companies and their colossal data have an advantage here and are applying circularity into their cloud suites. Take Google's Global Fiber Impact Explorer which, with the WWF's conservation expertise, is developing big data and algorithmic capabilities to help fashion brands assess their portfolios for high risk fibers across five key impact categories: air pollution, forest, biodiversity, climate and water usage and quality. The tool then offers recommendations for supporting local initiatives to improve their environmental impact.
To Infinity (Loop) and Beyond…
Digitization offers a tailwind to what companies have historically viewed as headwinds: regulatory pressures, environmental risks, and societal changes. But circularity also marks a "value-add" opportunity by leveraging the existing digital investments organizations have made for the last decade, and extending them more widely and effectively across their ecosystems.
Ecosystem-based monetization models are the promise and challenge of so many digital implementations. While millions of organizations have deployed digital technologies to capture rich data and insights, this "intelligence" so often remain siloed and invisible to key stakeholders throughout the value chain. Just as "digital-native" companies disrupted analogue business models, "circular"-native companies will disrupt linear digital business models because they offer a design which aligns stakeholders around a broader set of incentives– economic, environmental, and social. After all, systems change requires an ecosystem approach to innovation.